Putting Care At Your Fingertips,
Takes A Weight Off Your Shoulders
If you need a deeply person-centred Care management system that reflects all the nuance and detail that you want, but remains practical and easy to use, then look no further.
Eirmed's Electronic Health Records (EHR)
At Eirmed's heart lies its incredible EHR system. It allows you to create digital Care records for all of your Residents, and to take advantage of some of the fantastic tools that we at Eirmed have built to make your working life easier than ever.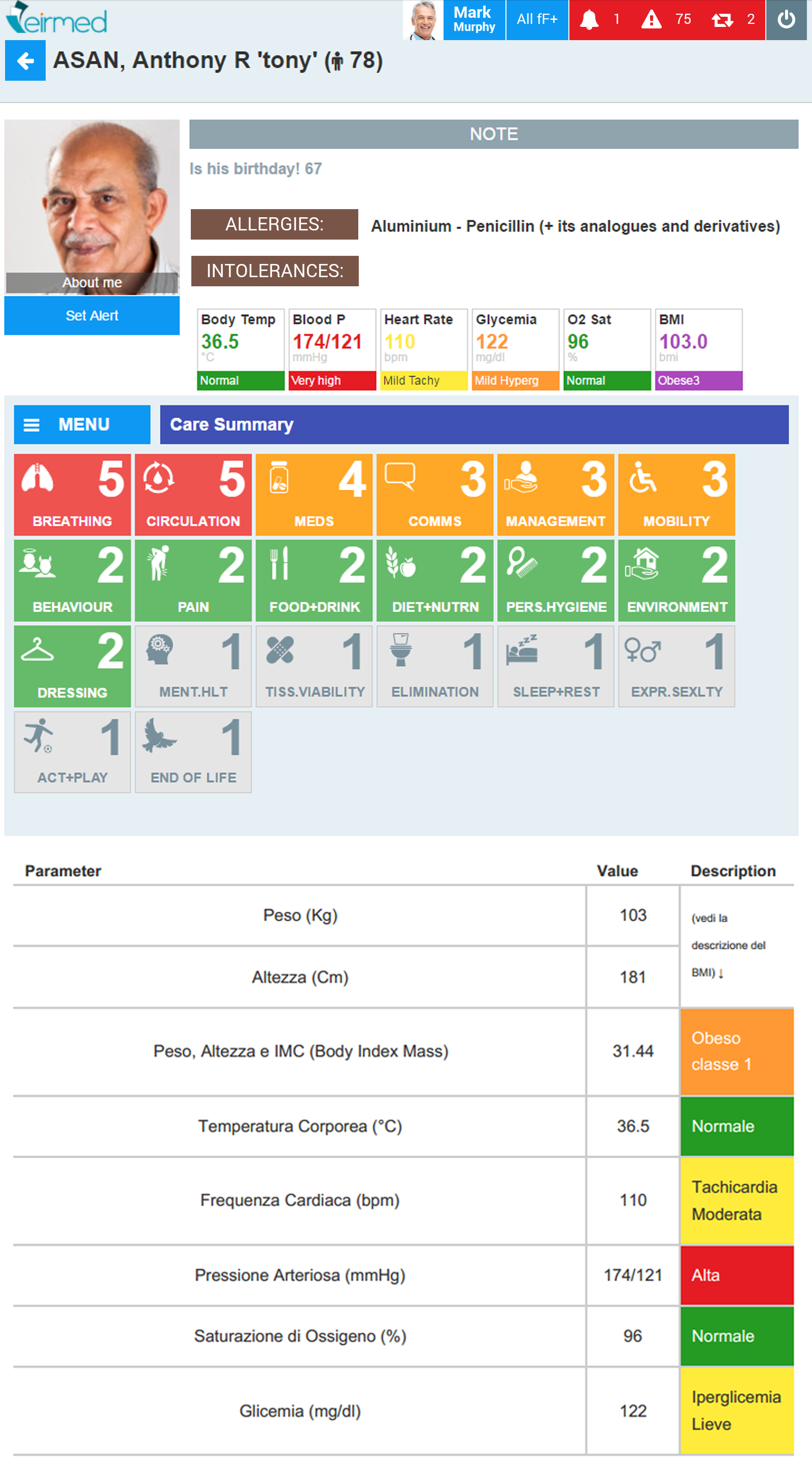 "If you think compliance is expensive - try non-compliance."
- Former U.S. Deputy Attorney General Paul McNulty
Some Of The Rich Features Of Eirmed's EHR
Each Resident's EHR has a configurable 'dashboard' that helps to highlight the information that's important to you. Whether it's the Resident's level of need in key ADLs, their Medical Vitals, Medication Status, Important Administration detail or important Resident-specific news and events.
All the Care documents you need are just a click away, and because Eirmed's content is digital, you don't need to fill in any repetitive administrative detail, the forms are customised for the Resident you're managing and you can get straight to recording what's important - quickly and simply.
Care Planning, Needs Assessment and ongoing Care tasks and records are streamlined into super efficient, easy to follow workflows that help you to record more detail than ever while saving you hours of administrative effort per resident per week.
Eirmed is CE Certified as a medical device, and it has passed the strictest data security standards in Europe for medical record keeping. We would be delighted to speak with you about the additional safeguards and devices that we make available should you have any specific data-security concerns or requirements.
Eirmed's EHR incorporates Biometric Signature Input. This helps you to get legally valid authorisations and acknowledgement from Residents, Clinicians, Mangers and other stakeholders in moments, bypassing the delays associated with posting or chasing paperwork.
Eirmed is digital, so data analysis is second-nature. This means you can quickly evaluate how your Staff, Residents or your Organisation is doing in any area, at any given moment, or over any period.